5887 Brockton Avenue, Suite B, Riverside, CA 92506
Tel: (877) 483 2071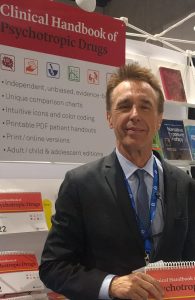 Dr. Andrius Baskys, MD, PhD, is a practicing gero-psychiatrist as well as neuroscientist, inventor, writer and educator. He completed his psychiatry residency at the University of Toronto, clinical fellowship at McMaster University, Canada, and post-doctoral training at the University of California San Francisco. During his career he has taught and conducted research as a faculty member at the University of Toronto, University of California Irvine, University of California Riverside as well as, more recently, holding a visiting Professorship at the Fourth Military Medical University (FMMU) in Xi'an, China. Dr. Baskys published over 200 papers, presentations and reports and two textbooks on psychopharmacology. His most important contributions are in the area of metabotropic glutamate receptor physiology. His most recent research interests are pharmacogenomics, vascular dementia and development of mobile device-powered tools for bringing pharmacogenomic information to clinical practice.
Dr Baskys teaches and conducts research at the Western University of Health Sciences. His clinical practice is based in Riverside and Orange Counties.
What Causes Memory Problems?
Most memory problems are not caused by Alzheimer's disease. They are caused by depression, anxiety, stress, vitamin and hormone deficiency or adverse effects of prescription and over the counter medications. Memory problems that they cause can be reversed if properly and timely diagnosed.
What do we offer?
We offer a thorough evaluation of your memory including neurocognitive testing, mental status, neurological & physical examinations.
We specialize in diagnosis and treatment of mild cognitive impairment (MCI), Alzheimer's disease, vascular dementia, Lewy body dementia, fronto-temporal and other dementias as well as more common conditions such as depression, bipolar disorder and post-traumatic stress disorder.
What is Pharmacogenetics?
We offer genetic-test interpretation and genetic test-guided treatments commonly referred to as Precision Medicine. Application of modern technologies based on genetic information about individual variations in drug responses and metabolism, significantly shortens drug response times, minimizes side effects and achieves better treatment results.
In our clinic we offer testing for genetic risk factors for conditions such as Alzheimer's disease and interpretation of results that includ treatment and prevention recommendations. Whole Exome Sequencing (WES) of DNA and interpretation of results are available upon request.
Are you at risk for Alzheimer's?
To answer this question, use our Alzheimer's Risk Calculator by clicking on the link on this page or downloading a free app from the Google Play store. Genetic testing for important variants in genes associated with Alzheimer's (for example APOE) can significantly improve the accuracy of the risk determination.
Referrals and contact information

Referrals may be made by physicians, patients or caregivers. Please fill out an Appointment  Request Form and request a Memory Clinic Appointment. You can also use a free memory Clinic app available on Google Play store. A link to the app is on this page.
Insurance
We accept IEHP, Optum, Medicare, UBH, Blue Cross Blue Shield, Aethna, all major credit cards and cash payments.