What is MEDpicker?
MEDpicker RX is a smartphone or tablet application that calculates drug metabolic rate deviations from expected values caused by drug-drug and drug-genotype interactions. It's intelligent algorithm calculates drug and genotype interactions, and presents best drug choices in a graphic format. The graphic format makes medication selection fast and easy regardless of the number of interactions. MEDpicker RX is easy to use, it saves time, helps reduce side effects and increase patient satisfaction. And a happy patient means a successful practice!
Why MEDpicker?
Medication-related death rate ranks No. 5 in the overall mortality in the US. Most of these deaths occur due to adverse drug-drug and drug genotype interactions and could be prevented.  Studies show that an average Medicare  patient takes over 10 medications many of which have multiple drug and cytochrome peroxidase (CYP) enzyme interactions. It is difficult if not outright impossible for a busy physician or non-physician prescriber to thoroughly consider these interactions during a short office visit. MEDpicker™ addresses this problem. It is easy to use and the visual presentation of drug interactions makes medication selection easy and fast.
MEDpicker Functions Step by Step
---
Please note that the actual screen rendering may differ in different releases of this software.
Step One
Entering current medications.
To enter drugs that your patient is currently taking, press the drop-down menu and select medications from the list. Currently, only those drugs that have well documented moderate to strong and clinically significant interactions with CYP enzymes are included in the database.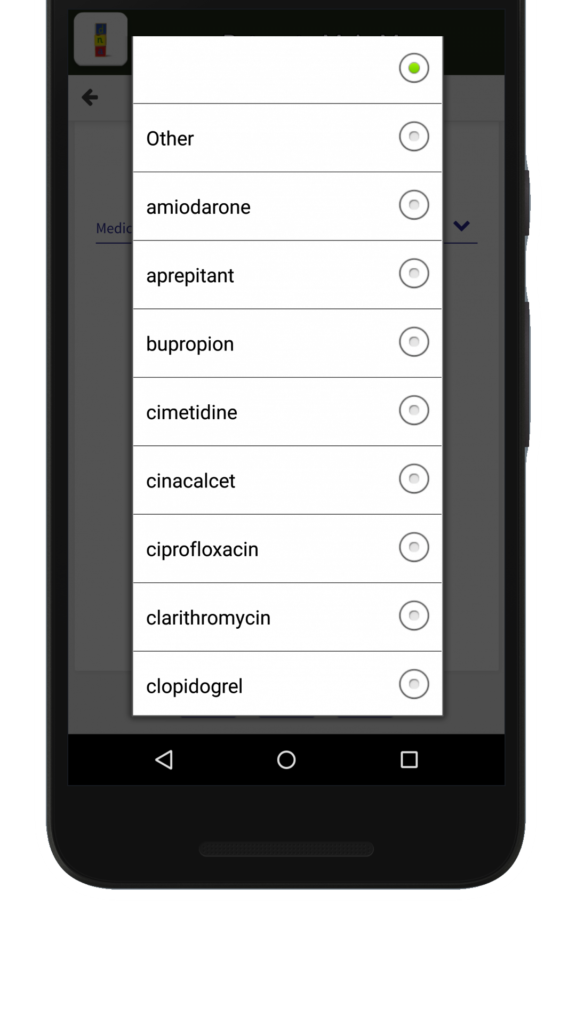 ---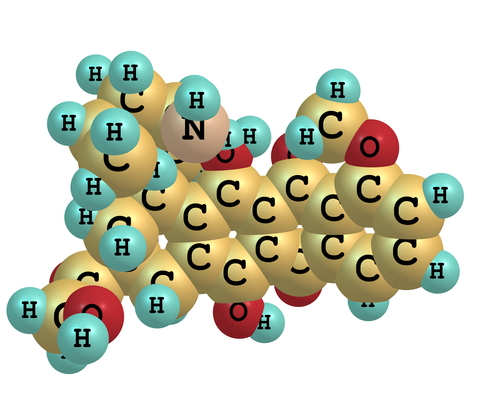 Step Two
Inhibition and induction of CYP enzymes
To see how your patient's medications are affecting CYP enzymes, press the MODEL button. MedPicker™ will calculate drug-drug and, if genetic information has been provided, drug- genotype interactions for your patient. Data are shown as a chart with columns that correspond to the following CYP enzymes: CYP1A1, CYP1A2, CYP2B6, CYP2D6, CYP2C9, CYP2C19, CYP3A4 and CYP3A5. Upward facing columns indicate CYP inhibition and downward facing columns indicate CYP induction in percentage points. Only strong and moderate enzyme inhibitors that are documented in literature have been included in this database. Certain nutrients (e.g. grapefruit juice) are also included.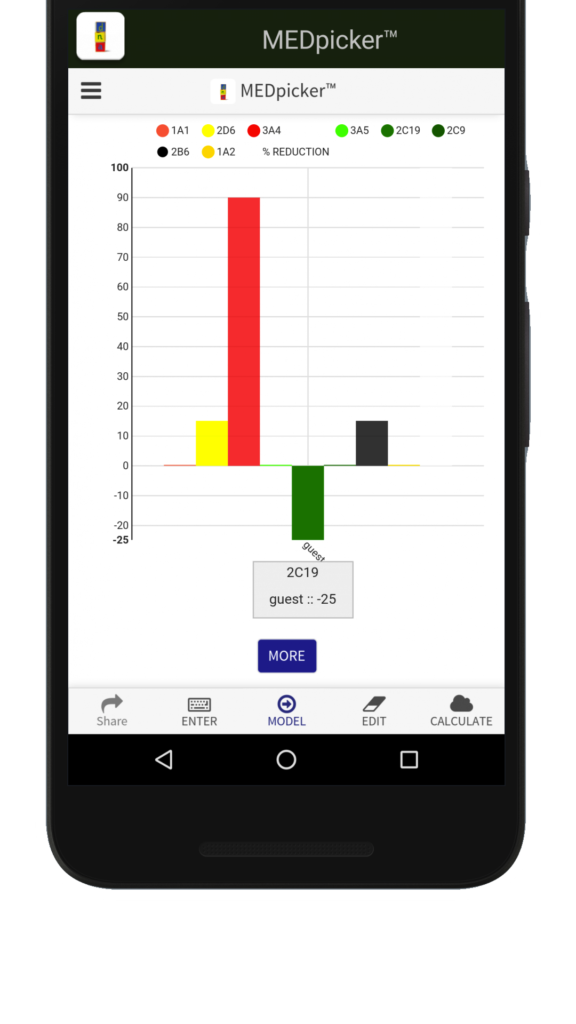 ---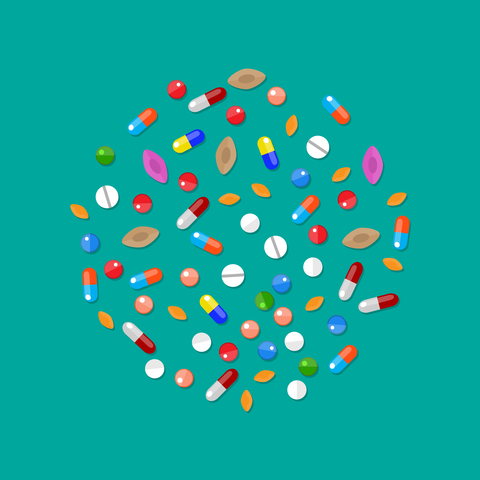 Step Three
Medication class selection
MEDpicker allows to select medications for prescribing that include three major drug classes used in psychiatric practice: antidepressants, antipsychotics and anxiolytics. In addition, the "Other" group of medications includes mood stabilizers, opioid analgesics and antidementia drugs. To make the medication class selection, press the "hamburger" button in the left upper corner of the screen and selected the desired medication class.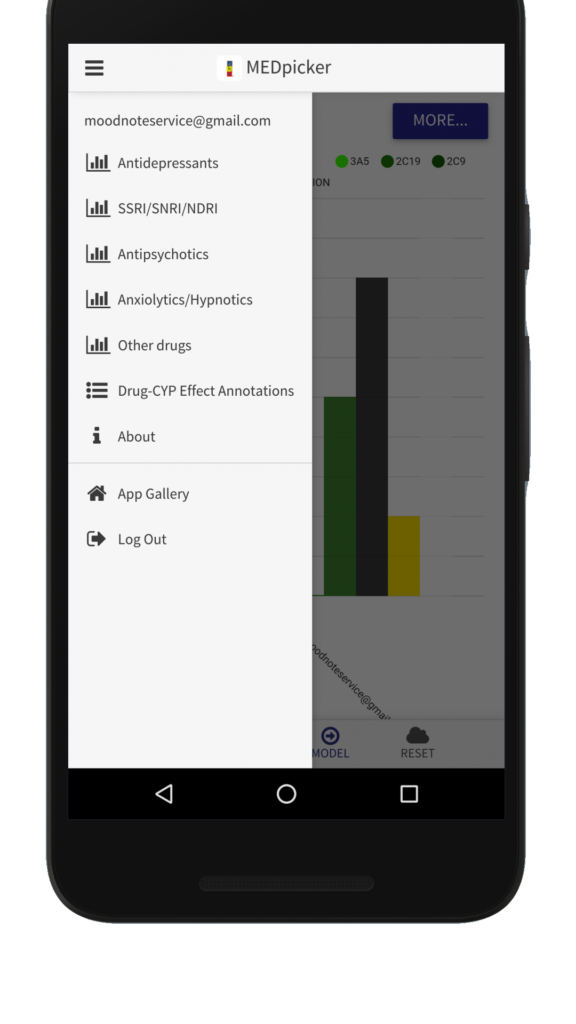 ---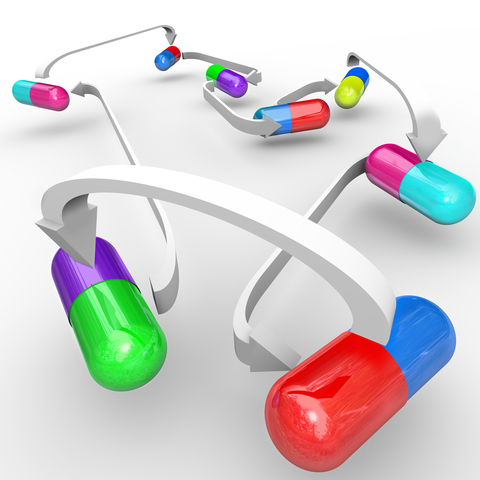 Step Four
Drug interactions chart
Selection of a drug class will result in MEDpicker calculating metabolic rates for the drugs in the selected class. The rates are calculated on the basis of the CYP enzyme interaction model constructed during the previous step. Since each drug is metabolized slightly differently,  the resulting drug metabolic rates – and by implication, the likelihood of side effects – are also different. This is shown in a chart  with columns corresponding to the drugs within the class and column heights corresponding to medication side effect probabilities. Lower columns represent medications whose metabolism is less inhibited and will likely cause less side effects. Higher columns correspond to drugs that are more likely to cause side effects. The opposite is true for drug effectiveness: higher columns correspond to drugs whose effectiveness is greater compared to drugs represented by lower columns. Columns with values of zero and less indicate a possibility of rapid drug metabolism and significantly reduced effectiveness. The graphic format allows easy and rapid selection of the compounds within the class and tapping on the column will reveal a corresponding drug. The following table can be used for orientation purposes:
Between  0.5 and  1.0  – more than expected side effects
Between  0.2 and 0.5  – expected likelihood of side effects
Below       0   –  potential loss of drug effectiveness
Please keep in mind that each calculation is applicable only to the patient whose medication data and, if available, genotype data have been entered.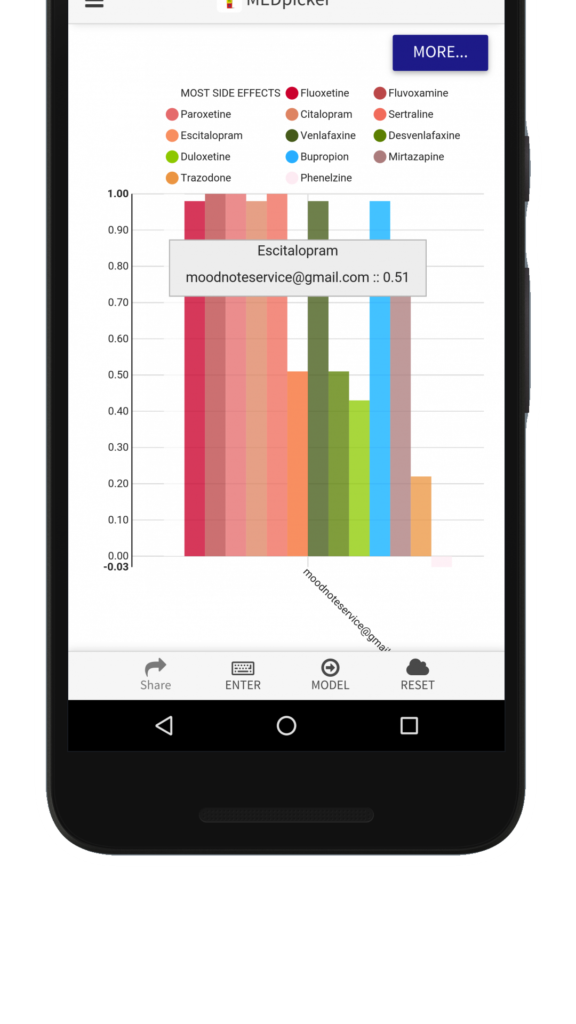 ---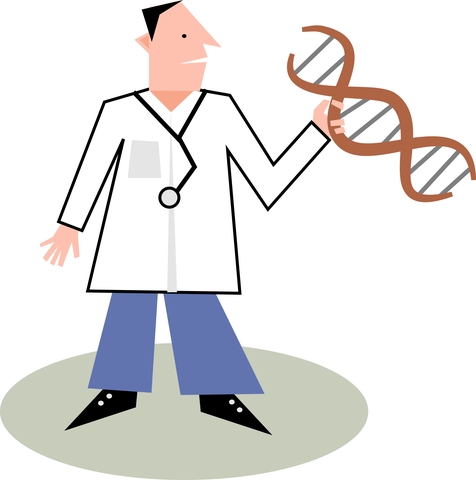 Step Five
Enter metabolizer status
Do you have your patient's CYP genetic information? If so, enter it after you finished entered your patient's current medications.  MEDpicker will calculate the combined drug-drug and  drug-genotype interaction effect. Calculation results will be shown in a graphic format. A combination of drug-drug and drug-genotype interactions could be a significant factor responsible for unexpected appearance of severe side effects or loss of medication effectiveness in your patient. This could occur in a patient whose Intermediate Metabolizer (IM) status has changed to Poor Metabolizer (PM) by addition of a potent CYP inhibitor drug to the medication regimen. With availability of genotyping data MEDpicker can predict such situations and thus help avoid unexpected serious medication side effects.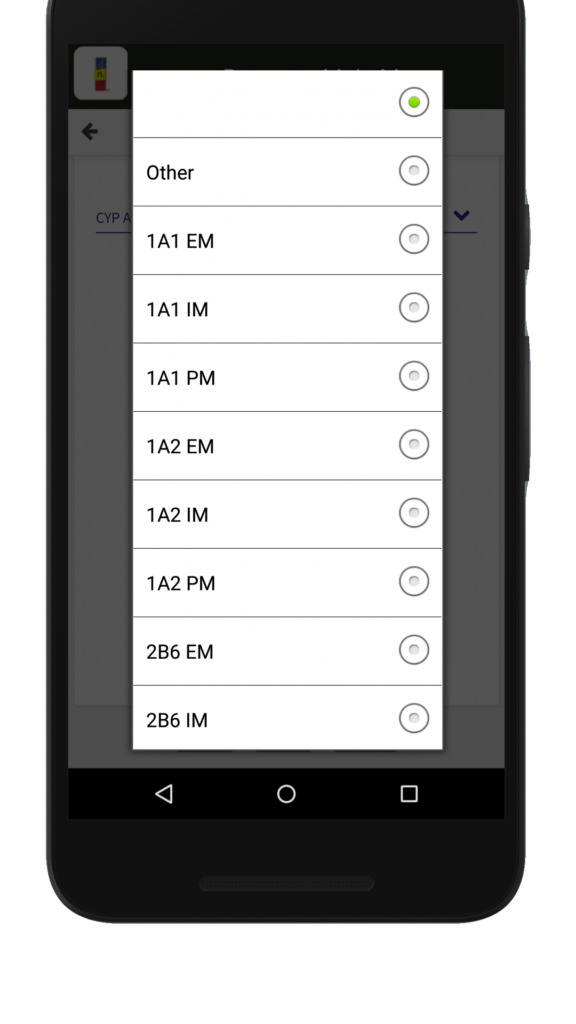 ---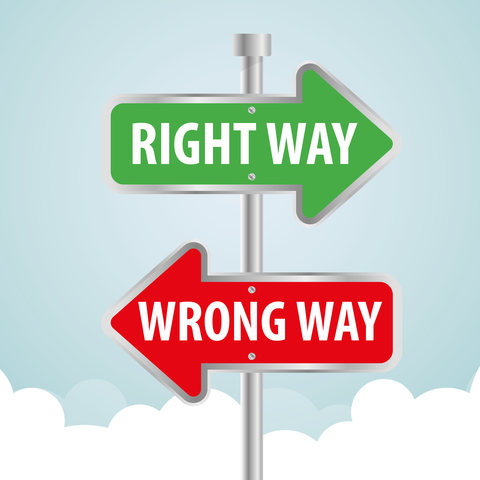 Step Six
Check FDA recommendations
If patient's CYP genotype information is available, pressing MORE (or Alerts) will reveal the narrative content of pertinent Health Canada/Santé Canada (HCSC), US Food and Drug Administration (FDA), Clinical Pharmacogenetics Implementation Consortium (CIPIC) and Dutch Pharmacogenetics Working Group dosing recommendations, warnings and precautions. This content is regularly updated by MoodNote LLC team.